Meet the Glue Founders
Imagine allowing simple access to cleaners, handymen and dog walkers while you're away or coming home from work to a fridge packed with fresh groceries and your online shopping placed in your hallway. Glue makes this a reality through an electronic thumb turn and is for people and businesses that want simple, smart and controlled access for people and a plug-and-play in-home delivery solution for products and services.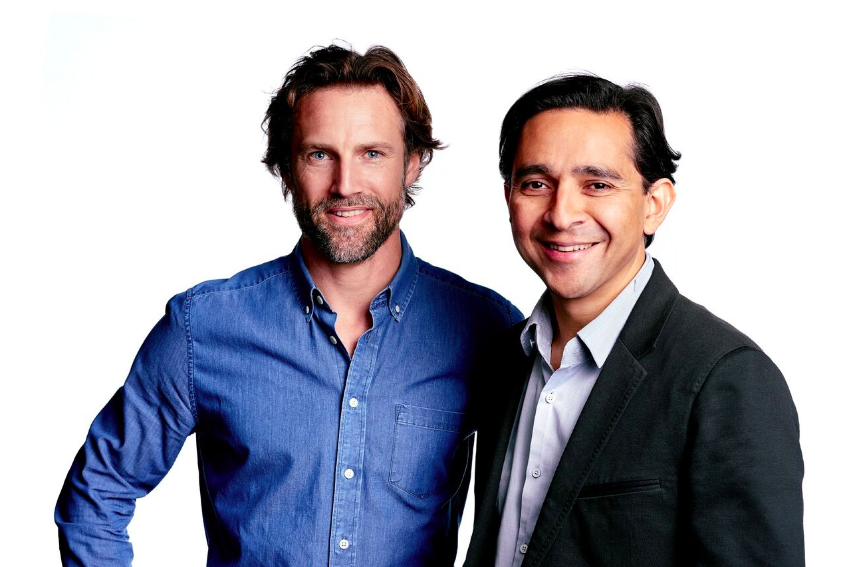 Founded:  2014 by Carl Johan Grandinson and Diego Oliva
Based in: Sweden, UK & France
Employees:  11
How did you come up with the idea?
The idea for Glue was sparked when I was travelling to San Francisco in the fall of 2014. The 12-hour flight from Stockholm had been surprisingly good but, still, I was as tired as anyone would expect from a transatlantic flight. I had rented this nice downtown apartment through Airbnb but upon arriving at the address, I was tasked with finding a seemingly hidden key-box. I wanted nothing more than to pass out on the bed but, instead, I had to dig around in the backyard to find the key. The otherwise seamless trip was now about to get ruined due to poor instructions and an ancient access solution. This, however, got me thinking, "there must be a better, more secure way to share access."
When did you get your first customer?
The first Glue Smart Lock was based on technology from Phoniro, the most influential smart lock company with solutions for the elderly care, which led us to inherit a few of their customers when we started Glue. As an individual company, we started shipping the first Glue Smart Locks to customers in March of 2015.
Congratulations to the cooperation with Ica (largest grocery chain in Sweden)! Tell us more how it all started and how you finally then celebrated. :)
Thank you! Yes, it is excellent to receive support from companies as influential as ICA and PostNord. The cooperation shows that they truly believe in our vision for in-home-deliveries and the mutual benefit this partnership gives the consumers. The partnership came about rather quickly. It's fun to see that two very large companies can act as fast as a start-up when a solution to a big problem, such as last mile delivery, surfaces.
We understand that a lot of people must question the security of digital locks, even the insurance companies. How have you handled that?
Glue Smart Lock is simply an electronic thumb turn that allows for keyless access through your smartphone. To install Glue, you only have to replace the existing thumb turn with our product on the inside of the door, which is of no effect to the security mechanisms of the existing door lock, rather it provides an extra layer of control to your lock. When customers explain this to their insurance companies, they will most likely ensure that the insurance is still valid. If-Skadeförsäkring has officially approved and concluded that Glue is compatible with their home insurance.
Is it easy to hack the locks?
No. We use the same encryption technology as online banks and every digital key is individual, which makes copying the Bluetooth signal impossible.
What do you think is the future of locks and home security?
Physical keys build upon 4000-year-old technology, which, to me, seems outdated. We're already incorporating our wallets into our smartphones with services like ApplePay and Google Wallet, so I think it's just a matter of time before people get around to remove yet another object from their pockets. Smart locks do not only remove the need for physical keys; it gives users increased control and helps them oversee their homes remotely. However, the home security aspect is just one of many aspects and I believe that smart locks will come to play an important role for businesses. Imagine allowing simple access to cleaners, handymen and dog walkers while you're away or coming home from work to a fridge packed with fresh groceries and your online shopping placed in your hallway. Smart locks have the potential to change deliveries, logistics and services as we know them.
Where are Glue in 5 years from now?
In five years, we are an integrated part in many people's lives by making them spend less time on administrating deliveries and their homes, which helps them free up time for work, family and friends. On a global scale, our solution for in-home deliveries reduces traffic congestion and CO2 emissions since logistic companies can optimise and better streamline delivery routes when they no longer are dependent on the recipient to be present at the time of delivery.
In short, we want to unlock the potential in people's lives while providing means for a sustainable future.
What is your best advice to a person who are going to start a company?
Look at what you do naturally without overthinking it and try to build a business around that because whatever you do, and whether it is successful or not, it is something you will do for a long time.
If you were a superhero who would that be?
The Green Lantern — He can create whatever he wishes out of pure energy, and his might is limited only by his imagination and will.
Name one person you admire and look up to.
Leonardo Da Vinci — He was the ultimate 'renaissance man': artist, inventor, scientist, philosopher.
In what way has Epicenter been beneficial to your company? Why is Epicenter a suitable environment for Glue? 
I believe that startups need to be built and developed in a live environment where ideas are flowing and visions are freely shared. At Epicenter, we meet entrepreneurs, visionaries and potential business partners on a daily basis, which has helped Glue to grow into the company that it's today. For example, Djenee, another company at Epicenter, helps us with installations for the customers that prefer their Glue Smart Lock installed by an experienced installer.