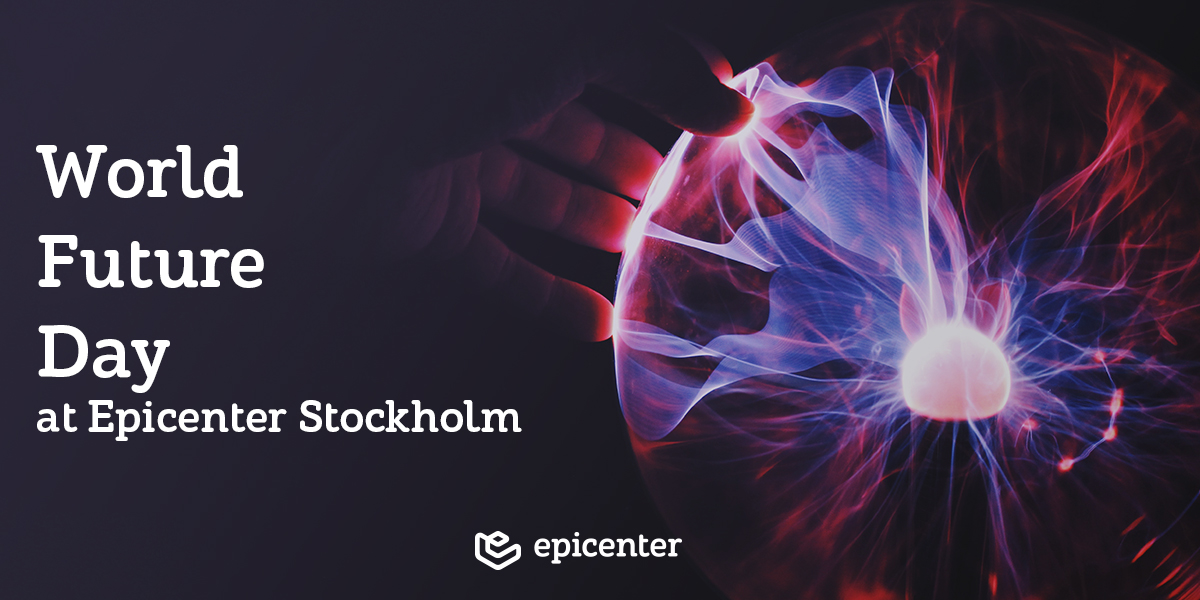 World Future Day at Epicenter Stockholm
Last signup date 2019-03-01
Speakers
Mathias Sundin, Rebecka Carlsson, Hannes Sjoblad, Christian von Essen
Event place
The Terrace, Epicenter Stockholm, Mäster Samuelsgatan 36, Stockholm
Where are we going ? Welcome to the celebration of World Future Day 2019 at Epicenter
Friday 1 March 2019, 16.00-19.00 at Terassen, Epicenter Stockholm, Mäster Samuelsgatan 36, Stockholm
Welcome to an afternoon of roundtable conversations about different speculative futures!  The theme of the day is "Where are we going?". Through unprejudiced conversations, we will work to improve our understanding of what the world may be like in 50 years from now, and more importantly – what do we want it to be like? Join the conversation!
We will run a round of short intro talks to get the conversations going across a range of different topics - topics and speakers include: 
Mathias Sundin, Warp Institute: Make our Future in Space Come Sooner - Space exploration used to be only for presidents and billionaires. Now space is open for everyone to be involved in. 
Jane Skullman, Stockholm Futurists: The brain is the new frontier! Future technology together with old practices like meditation and mindfulness gives us the opportunity to improve our health, thinking, and cognitive performance
Rebecka Carlsson, Heureka Ventures: A Sustainable Society Through Technology 
Hannes Sjoblad, Bionyfiken: Augmented Humans. What we can and should do to modify and improve the human condition 
Christian von Essen, Heja Framtiden: I interviewed 50 futurists and this is what I learned
After the discussions we hope you are able to join us for drinks and mingle at Epicenter. A table at the restaurant YUC located in the same building is booked, please email hannes@epicenterstockholm.com  if you are able to attend dinner (please note that the dinner at YUC will be at your own expense).
See you there!
About World Future Day
Most holidays we celebrate are about historical events, the birth or death of kings and saints, days of liberation and revolution and other national events. In the fast changing world we live in, we need to spend at least one day per year engaging with what we want the future to be like. March 1st is internationally recognized as World Future Day and celebrated at universities and by futurists around the world with conversations about the future.