6 tips to succeed with your crowdfunding campaign
Here are 6 crowdfunding success tips from entrepreneurs who have crowdfunded successfully on the FundedByMe platform.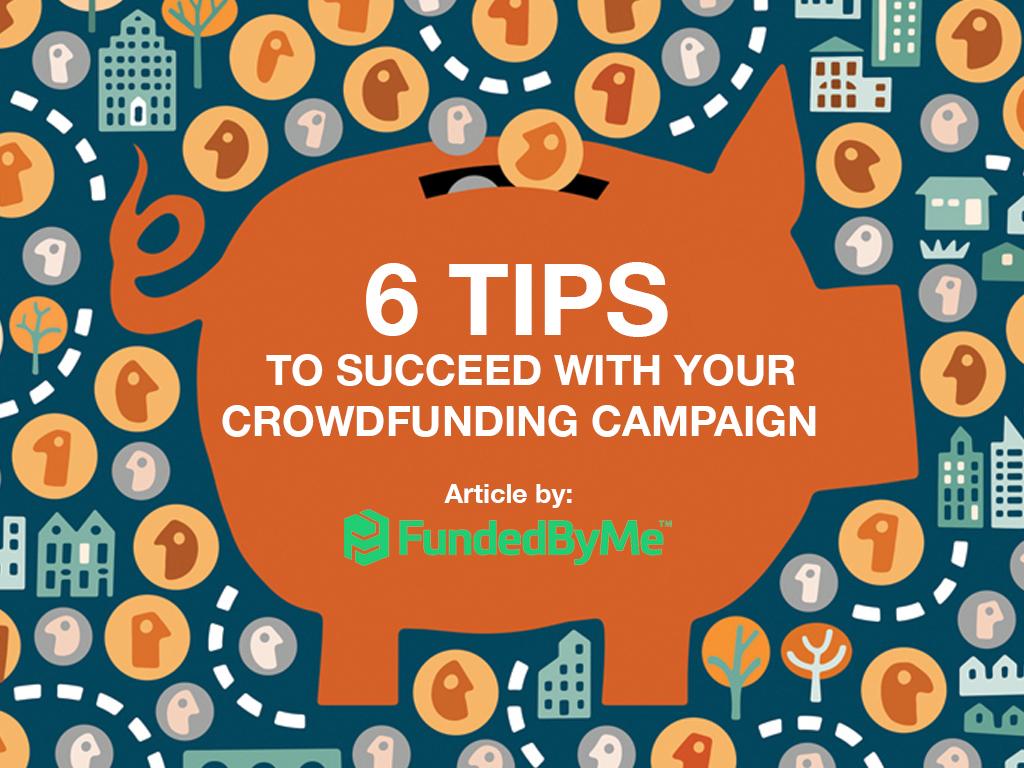 1. Be prepared
Your campaign will last for a couple of weeks and you need to keep the energy high for the entire time. Be sure to have a marketing strategy or plan that will allow you to maximise exposure for the entire time your campaign is live.
2. Activate your network
No one is more likely to support your campaign than someone who knows you personally. Ask your network to help you share news about your campaign and give their personal endorsement as they do.
3. Communicate well
When someone offers to invest in your campaign, contact them shortly after and thank them for their offer. Open up a two-way communication channel between your investors and your team early on.
4. Be honest and clear
What are your plans with investors' money? Do you have budgets and strategies? Ensure you do and then share them with potential investors.
5. Ask the experts
On FundedByMe we list all successful campaigns - be sure to examine those campaigns on the platform, via Google search and (if possibly) by asking the entrepreneurs themselves what they did to reach success. Don't reinvent the wheel, rather copy those who have gone before you! Here are some interviews with successful entrepreneurs.
6. Be creative
That said, what could you do that would make your campaign stand out? For our own round, currently open for investment  FundedByMe has taken out some bus ads in inner-city Stockholm. (Have you spotted an #FBMbus?) Other campaigns host investor sessions where interested parties can try their product and meet the team behind the brand. Get creative in how you spread the word about your campaign!
Crowdfunding is a powerful tool on 3 levels
1. Money - of course!
This is your main goal and reasoning for embarking on this type of financing for your business. The average equity crowdfunding deal size on FundedByMe in 2015 was more than €250,000. Think what you could do with that money in the bank!
2. Marketing 
Having a crowdfunding platform live somewhere offers the perfect tool from which to grow your audience and share your company's highlights and unique selling points to an audience of early adopters and FinTech enthusiasts. Additionally, imagine how motivated each shareholder becomes to market your brand on your behalf, because if you succeed, they succeed!
3. Market validation 
If you have been working for years on your business, a crowdfunding campaign is the perfect tool to give you that last bit of market validation. If your campaign is flying, the crowd loves what you do. If not, it is usually a pretty good indicator that you need to adapt your offering. 
But crowdfunding is definitely not just about listing your campaign on an awesome platform like FundedByMe and then sitting back and watching the money roll in! Nope, it's hard work and you will need to work smart to maximise your campaign's impact! 
In order to help FundedByMe's crowdfunding entrepreneurs succeed we recently launched an email marketing campaign with daily, actionable tips along with contacts in the media who can help you spread the word about your campaign. This is available to all campaign owners on FundedByMe. You can also read our blog for additional tips.
If you would like to meet us, why not join us next week Thursday at Stockholm Chamber of Commerce where we will host our next crowdfunding evening. Attendance is free, but you need to RSVP!
Interested in trying out crowdfunding for your company? Learn more and sign up here.